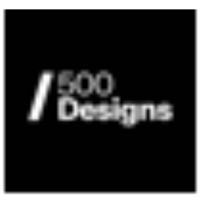 500 Designs
We create impactful apps, branding & websites
500 Designs Overview

$100 - $199/hr

50 - 249

2017
500 Designs is an award-winning full-service design agency. We've worked with Google, 3M, Cisco, TikTok, HubSpot, Fresh Del Monte, KBS, Betterhelp, and a host of innovative start-ups. Designs seen and used by hundreds of millions around the world. In 2022 on Inc5000, we ranked #426 of the fastest-growing companies in the U.S, #2 fastest growing Branding and Website Design agency. Our 120+ person team is incredibly passionate about every project, and it shows in our creativity, methodology, approach, results, and client relationships. The combination is unbeatable energy that sparks innovation and leads our clients to reach their goals.
Founded and led by serial entrepreneurs, we partner with ambitious leaders to design radically better online businesses, define compelling brand strategies, design delightful user experiences, and innovate performance-driven products and services.
Strengths include Brand Development and Strategy, UI/UX Design for Websites and Mobile Apps, Custom Wordpress Development, and Video Animation.
Location